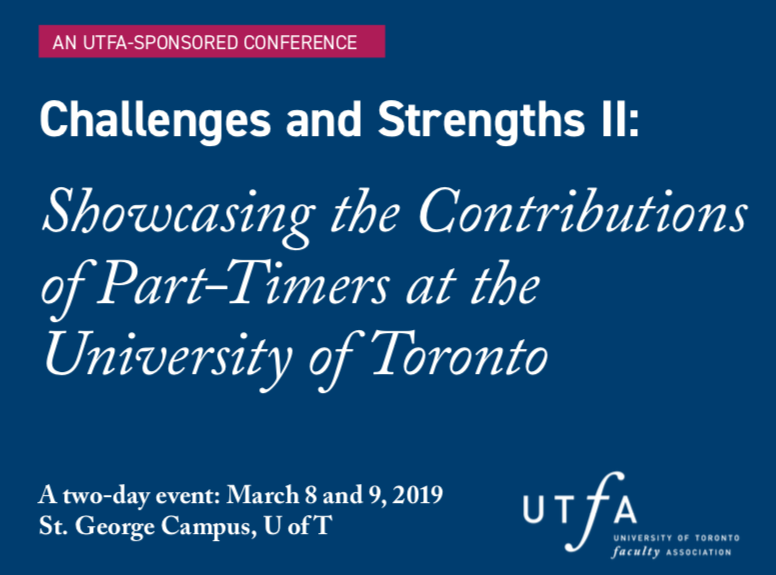 Friday, March 8
4:00 to 6:00 p.m. Faculty Club, 41 Willcocks Street
Opening remarks, Claude Evans, Chair, UTFA Appointments Committee
Class Struggle: Putting Contract Academic Staff in Political Economic Context, Karen Foster, Department of Sociology and Social Anthropology, Dalhousie University; Canada Research Chair in Sustainable Rural Futures for Atlantic Canada; Keynote speaker
Negotiating Change for Part-Time Appointed Faculty, Cynthia Messenger, President, UTFA
Overcoming the Dignity Deficit: Collective Bargaining for Contract Academic Faculty, Kristin Cavoukian, Vice Chair, CUPE 3902, Unit 3
Reception: 6:00 to 8:00 p.m. Faculty Club, 41 Willcocks Street
Saturday, March 9
Conference: 9:00 a.m. to 5:00 p.m. Room 205, Claude T. Bissell Building 140 St. George Street
9:00-9:15 a.m.
Introductory Remarks
Cynthia Messenger, Innis College, UTSG, President, UTFA
Claude Evans, Department of Language Studies, UTM, Chair of the Appointments Committee, UTFA
9:15-11:00 a.m.
Session 1: Careers and Publishing
Chair: Cynthia Messenger, Innis College, UTSG, President, UTFA
Part-Time All the Time: Academic Architects and the Gig Economy, circa 1965. Matthew Allen, John H. Daniels Faculty of Architecture, Landscape and Design, UTSG; Member-at-Large, UTFA Executive
Finding a Diverse Career in Music. Elizabeth McDonald, Faculty of Music, UTSG
From ROP Project to Journal of Chemical Education Publication: It is Possible Part-Time!. Kris Quinlan, Department of Chemistry, UTSG
And Then There were None. Brian McDonagh, Faculty of Music, UTSG
Coffee break: 11:00-11:15 a.m.
11:15 a.m.-12:45 p.m.
Session 2: Pedagogy in the Sciences  
Chair: Judith Poë, Department of Chemical and Pysical Sciences, UTM
Evaluating the Impact of Geo-Gebra on Student Engagement in a First-Year Linear Algebra Course. Xinli Wang, Department of Mathematical and Computational Science, UTM
Quick Write. Duncan Jones, Department of Biology, UTM
The Collaborative Learning Cemetery Project. Carolan Wood, Department of Anthropology, UTM, and Alexandra Saly, PhD Candidate, Department of Anthropology, UTSG
Lunch: 12:45-1:30 p.m.
1:30-3:00 p.m.
Session 3: Pedagogy in the Humanities
Chair: Azita Taleghani, Department of Language Studies, UTM, Chair of the Equity Committee, UTFA
Experiential Learning in Teaching English/Chinese Translation. Jingsong Ma, Centre for French and Linguistics, UTSC
The Mechanism of Synonym Related Word-Generating Errors by Chinese Learners of English Background. Renee Rui Wang, Centre for French and Linguistics, UTSC
Outreach to Teach: Departmental Communication as Pedagogy. Sonja Nikkila, English Department, UTSC
Coffee break: 3:00-3:30 p.m.
3:30-5:00 p.m.
Session 4: Community and Curriculum
Chair: Rena Helms-Park, Centre for French and Linguistics, UTSC
Vocal Interventions in Palliative and Cancer Care Music Therapy. Amy Clements-Cortés, Faculty of Music, UTSG
Clinical Instructor E-development Program. Manjit Dhana-Yasi, Lawrence Bloomberg Faculty of Nursing, UTSG
Contributing to an Indigenous Curriculum: Incorporating Indigenous Perspectives in Pedagogical Practice in the Classroom. Carolan Wood, Department of Anthropology, UTM
Part-time appointed faculty members and Librarians will present papers on their discipline-based scholarship, creative professional activity, pedagogical research, or pedagogical practice.
Lunch will be served.
To attend all or some of these three events, please RSVP to faculty@utfa. org.
Let us know which of the 3 events you will be attending: (1) March 8 Speakers' event; (2) March 8 Reception; (3) March 9 Conference.
--------------
Date and time:
Friday, March 8, 2019 - 4:00pm

to

Saturday, March 9, 2019 - 5:00pm