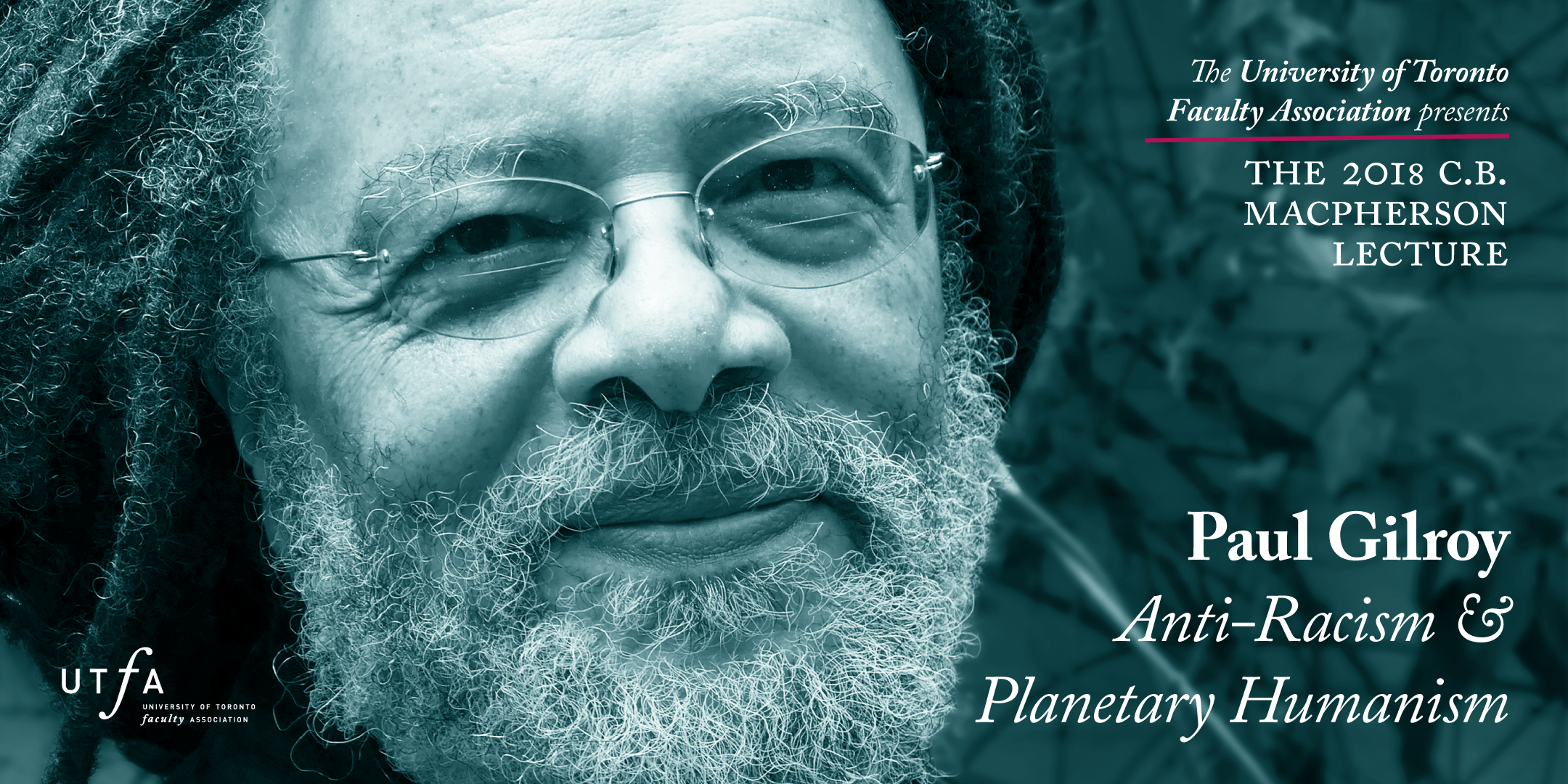 The University of Toronto Faculty Association Presents the 2018 C.B. Macpherson Lecture
Professor Gilroy (Professor of American and English Literature, King's College London) is a renowned scholar of Black Atlantic diasporic culture and Cultural Studies. Ongoing scholarly inquiry on the Black Atlantic is indebted to his formulation of the concept in his seminal The Black Atlantic: Modernity and Double Consciousness (1993). His other well-known publications include There Ain't no Black in the Union Jack (1987), Against Race: Imagining Political Culture Beyond the Color Line (2001), Postcolonial Melancholia (2004), Darker Than Blue: On the Moral Economies of Black Atlantic Culture (2011), and most recently Conflicting Humanities (2016), edited with Rosi Braidotti. 
Professor Gilroy's scholarly interests encompass postcolonial studies, particularly with regard to London, postimperial melancholia and the emplotment of English victimage; the literature and cultural politics of European decolonisation; African American intellectual and cultural history, literature and philosophy; the formation and reproduction of national identity, especially with regard to race and "identity"; the literary and theoretical significance of port cities and pelagics. Professor Gilroy has also published on art, music, social theory and the crisis of the humanities in the university.
His current projects are the writing of Alain Locke, the cultural significance of aerial bombardment and the autobiographical writing generated by colonial wars.
Professor Paul Gilroy joined King's in September 2012 having previously been Giddens Professor of Social Theory at the London School of Economics (2005-2012), Charlotte Marian Saden Professor of African American Studies and Sociology at Yale (1999-2005) and Professor of Cultural Studies and Sociology at Goldsmiths College (1995-1999).
Date and time:
Tuesday, October 30, 2018 -

5:00pm

to

7:30pm